Our newest deacon

     Our brother Patrick Monahan, OFM Cap., was ordained a deacon in Washington, DC, on Saturday, May 6 --  Br. Matt has the photos from the event on our Flickr gallery. Br. Patrick most recently served the residents of McGuire Home of Beaver County, PA, administered by the Felician Franciscan Sisters, as well as serving as Provincial Spiritual Assistant for the Secular Franciscans. Patrick is now stationed at our St. Francis Friary ("Capuchin College") in Washington, DC, preparing to accept his assignment to join our brothers in the Custody of Papua New Guinea.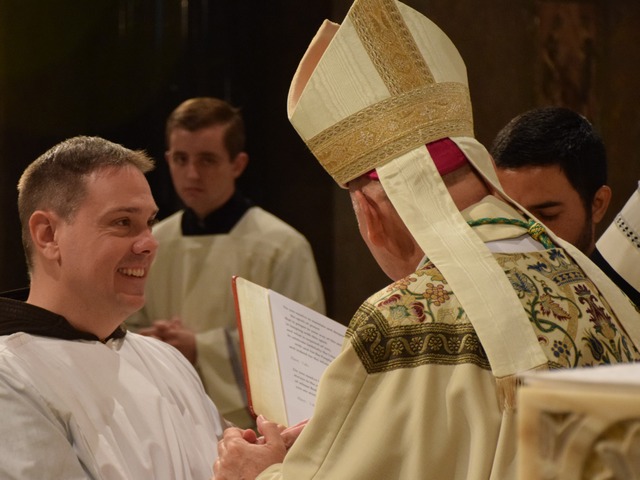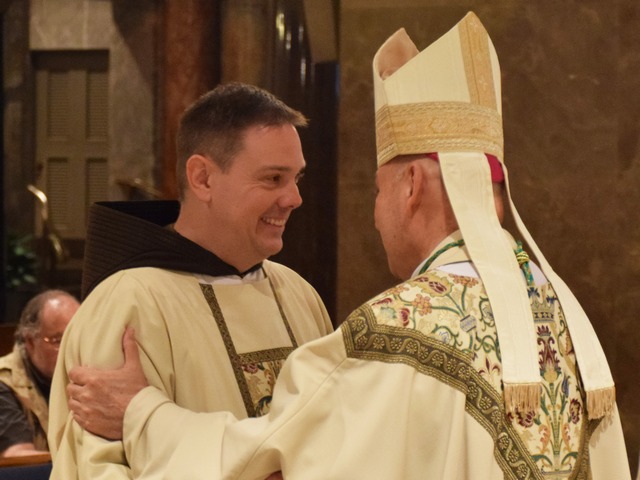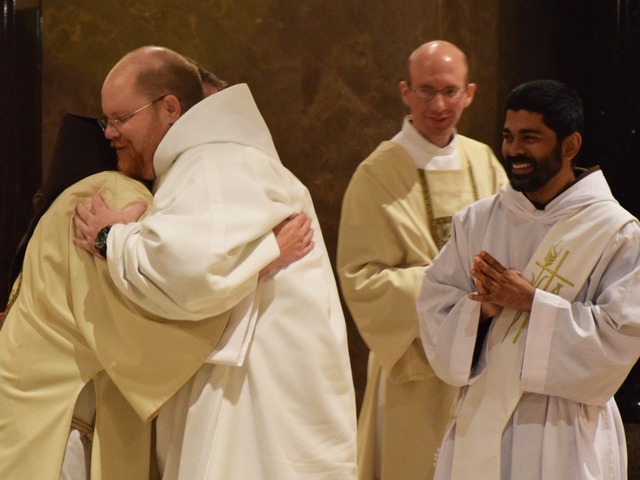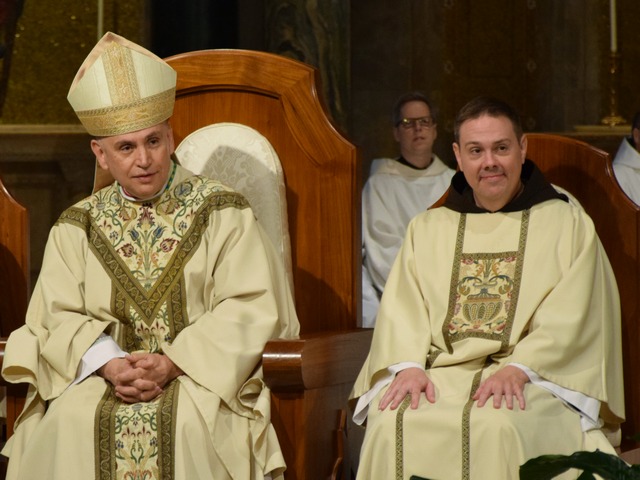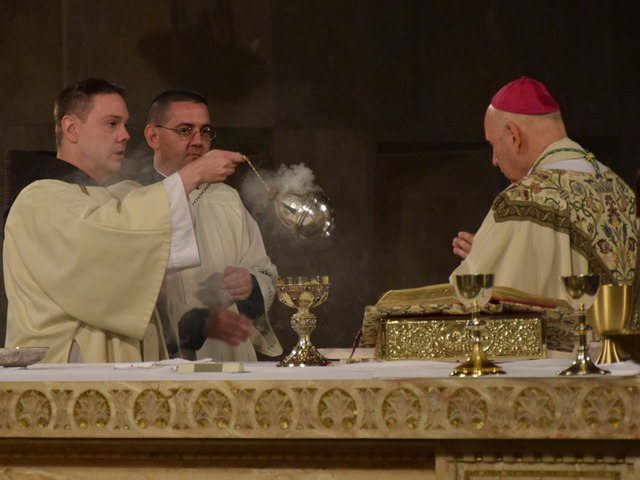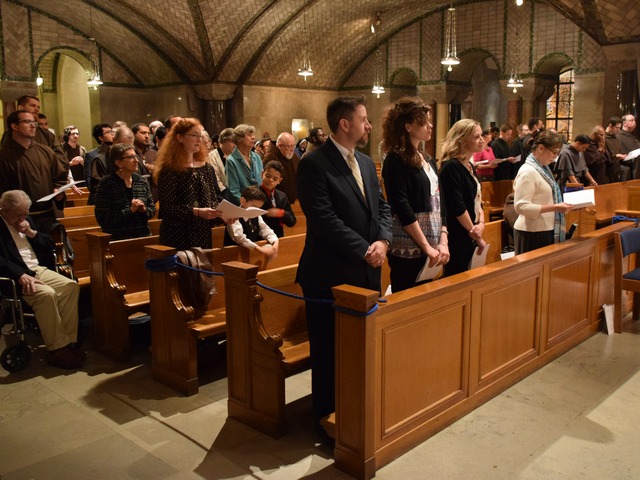 ---
Kensington Friars Pray for the Addicted

    Br. Kip Ledger, OFM Cap., sent us this short video clip from Channel 6 News, the ABC affiliate in Philadelphia, PA. Mother of Mercy House is a ministry started by two Diocesan priests who do street ministry in the neighborhood close to our Padre Pio Friary in the Kensington section of the city. Kip writes: "We have actually formed a group of ministries in the area and are calling ourselves, Under the 'L' Ministries. [The "L" is the local access train in Philly].  This is one of our first attempts to do ministry together. A Mass was held in McPherson Park to pray for those who are struggling with and or have lost someone to the opioid epidemic."

    The friary will be the home of a new undertaking for our Province, a ministry among the people of the Kensington area who need our help and our compassion. Our brothers Andrew McCarty, OFM Cap., and Ross Henley, OFM Cap., will be heading up our outreach efforts -- look for more information as their service among the people takes shape in the summer months. 
---
Farewell to Cap College
     Capuchin College said a festive farewell to brothers Phil White, OFM Cap., & Andrew McCarty, OFM Cap. (see above) as they depart.  Guardian Fr. Paul Dressler, OFM Cap., writes: "We gave them San Damiano crosses as a memory for their time spent here.  Phil is off to Cumberland, MD, for his deacon internship.  Meanwhile, Andrew heads first to St. Louis, MO, to assist the Inter-continental pre-novitiate program and then moves on to Philadelphia, PA, to work in the evangelization center. Happy Trails, Brothers!"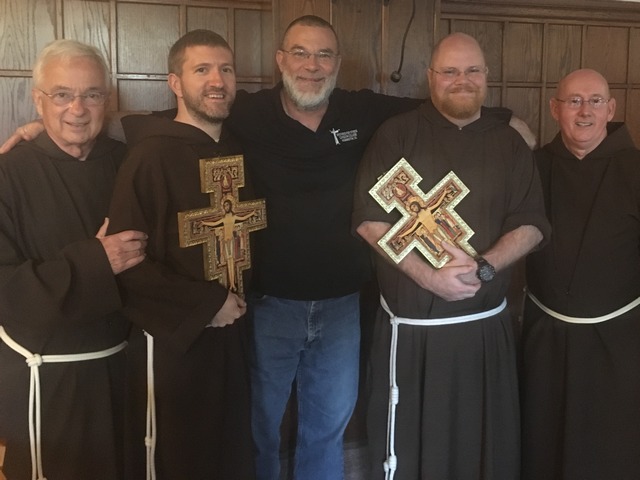 Pictured: Brs. Bill Gillum, Andrew McCarty, Paul Dressler, Phil White and Bob Herrick
---
Missionary Discipleship in Baltimore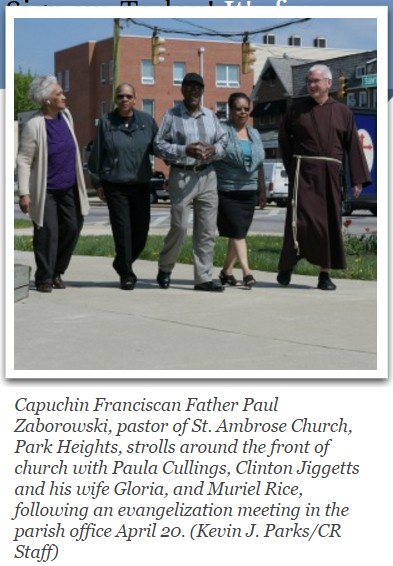 The Parish of St. Ambrose was highlighted last week in the latest issue of the Baltimore Archdiocese's Catholic Review. Entitled "How West Baltimore is rising to the challenge of 'missionary discipleship'," the article shared the ways in which parishes like St. Ambrose are taking to heart the Lord's call to "follow" him and to "Passing it on."  
    Through workshops in leadership, evangelization and community outreach, and speakers and presenters including Therese Wilson Favors, former director of the Archdiocese of Baltimore's Office of Black Catholic Ministries, and Capuchin Franciscan Father Paul Dressler, guardian of Capuchin College in Washington, D.C., parishioners began to not just understand missionary discipleship, but enact it.
    The article quotes our brother Paul Zaborowski:
    Father Zaborowski said that turnout has been high; during Advent, he offered two "stop-and-go" Masses, during which he explained the liturgy while he celebrated it, due to demand.
"As a pastor, I'm so pleased," he said. "It has built a wonderful enthusiasm in the parishes."
Larger-scale evangelization efforts on Christmas and Easter sent parishioners into the neighborhoods surrounding St. Ambrose, for carols and to invite neighbors to church, respectively.
    "We had five new people show up to Mass Easter morning," Father Zaborowski said, adding that new arrivals are greeted warmly by St. Ambrose's "ministers of hospitality" – "Theaters have ushers," he said – and later receive letters from himself.
    "St. Ambrose stands here, the same as St. Edward stands in Poplar Grove, and we have to give hope," he said. When people get weary enough to come in, we have to feed them and bring them to Christ."
---
Symposium in Kap, Papua New Guinea

    From our brother Bishop Steve Reichart, OFM Cap., Archbishop of Madang in Papua New Guinea: Seminarians at St. Fidelis Seminary, Kap, in the Archdiocese of Madang. These men are mostly Spiritual Year Program seminarians from around the country. First and second year academic students are enjoying a semester break, although a few stayed behind at the seminary. We took a photo after a morning symposium during which we discussed addictions, priesthood celebacy and other interesting topics. The symposium was the idea of Fr. Don Debes OFM Cap, rector of the seminary. Hopefully this will become a regular event.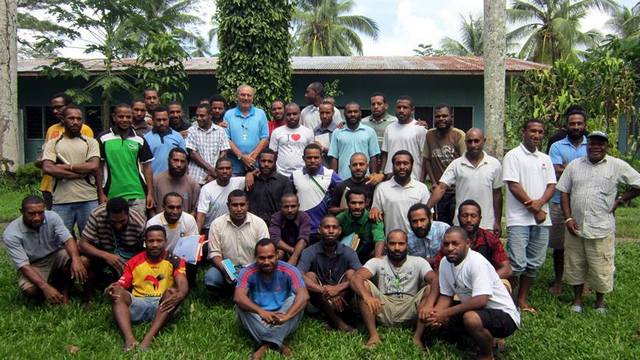 ---
Shots from the May Retreat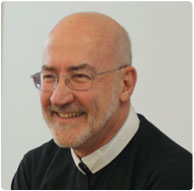 Our brothers made one of the Provincial Retreats in Long Beach, NJ, which wrapped up on Friday, May 26, and we've been sent photos of the prayerful crew from their secluded confinement. The Retreat, held at San Alfonso Retreat Center, has been directed by Father Jim Wallace, C.Ss.R. (left), Rector and Director of the Center. Jim is the author of various books including "Preaching in the Sunday Assembly: A Pastoral Commentary on Fulfilled in Your Hearing," examining the USCCB'sdocument on Sunday preaching, and "Living the Word: Scripture Reflections and Commentaries for Sundays and Holy Days."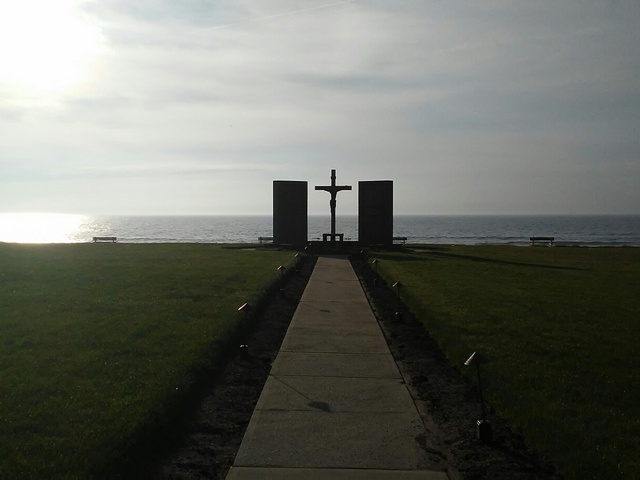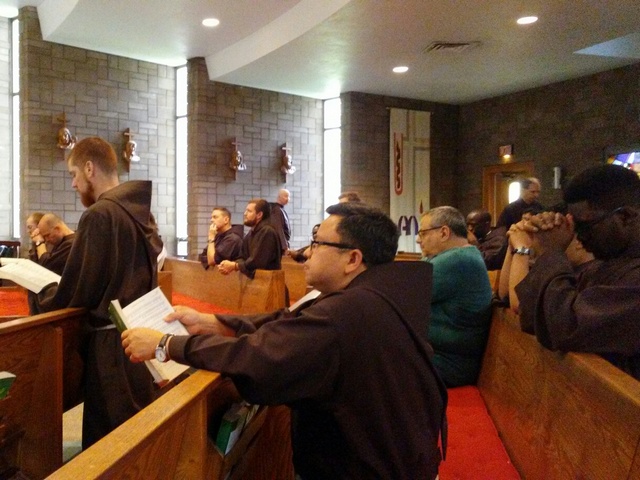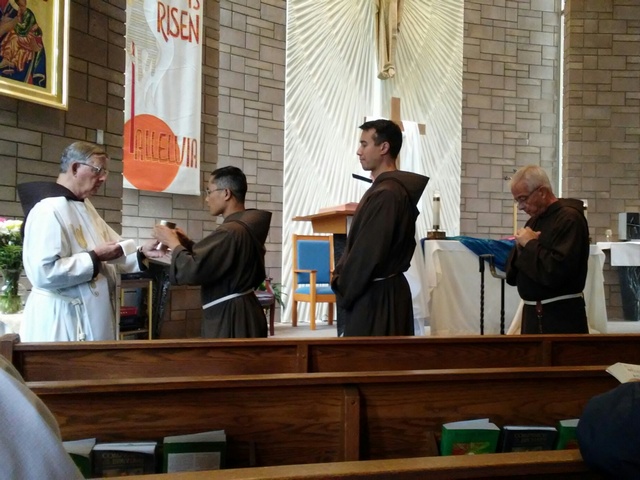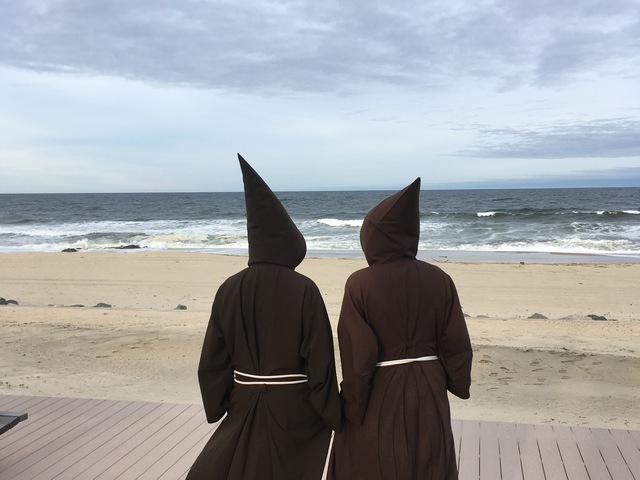 ---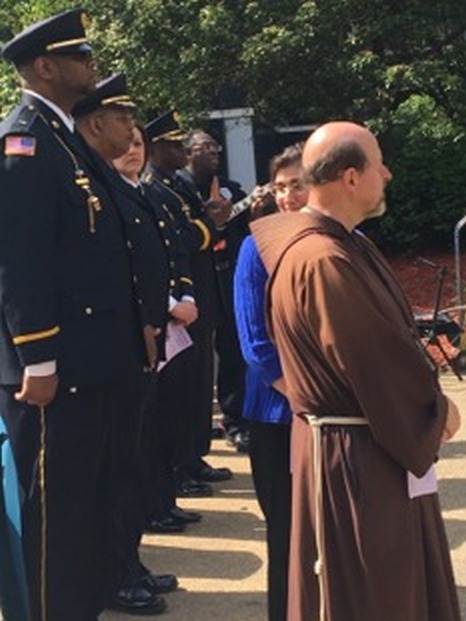 Br. Mark Appreciates Correction Officers

    Our brother Mark Carter, OFM Cap., chaplain at the Allegheny County Jail, in Pittsburgh, PA. is pictured here participating in an annual observance at the Jail known as "Correction Officers Appreciation Week" in May.  Throughout the week, all the officers are informed that the chaplaincy staff is keeping the officers, their families and their special needs in earnest prayer.  One event, pictures here, is the memorial service for the officers who died following their retirement from the jail.  Mark is pictured standing with the uniformed Warden and his deputies. As indicated in the recent assignments, Mark will be continuing his work at the Jail from his new home in Beaver, PA, in June.
---
DC Vow Renewal & Conferral of Ministries

    Our Br. Matt Hindelang, OFM Cap., uploaded some photos of the brothers who recently made their renewal of vows during the morning Mass of May 18, and of our brothers Steven Wright, OFM Cap., and Rigo Azanwi], OFM Cap., as they were installed to the ministry of Lector during one Evening Prayer in early May. "Lector" is one of the liturgical offices within the Church, conferred on those who prepare to serve the Church in ministry.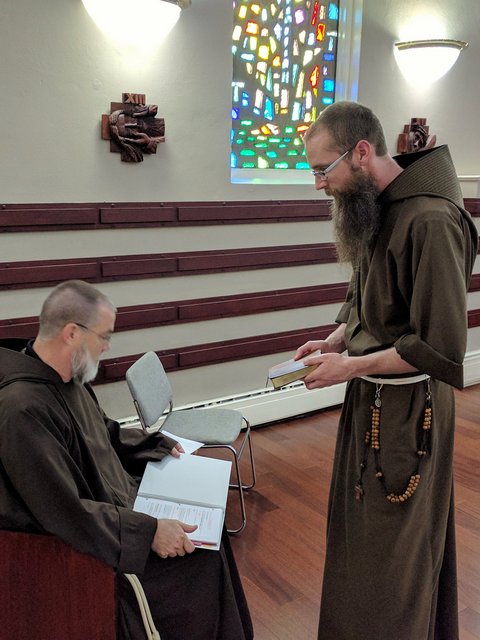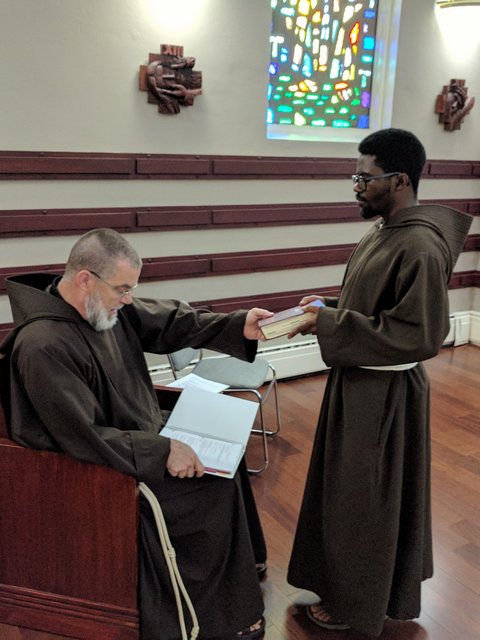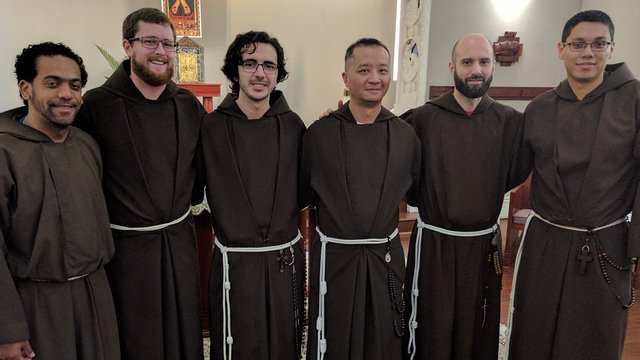 Renewing vows were Brs. Francisco, Ross, Tommy, Keon, Diogo and Saúl
See Br. Matt's "Gallery" in our top menu.
---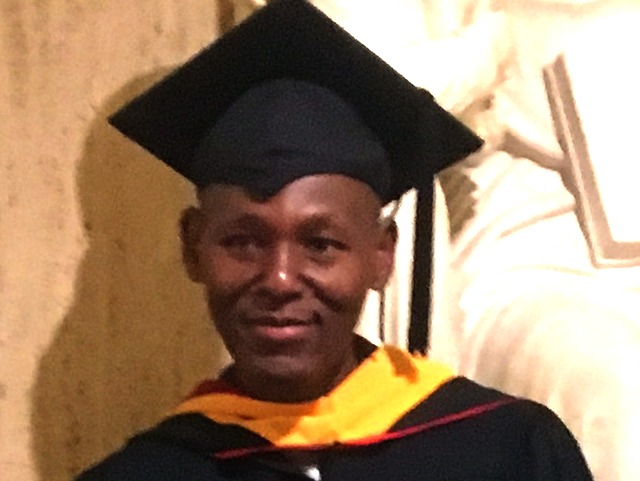 Friar George Muthaka Graduates Twice

    Thanks to our brother Michael Mumba, OFM Cap., of the Cap College Fraternity, we have photos of our brother George Muthaka's FIRST Graduation in May. The first graduaton last week was from Divine Mercy University of Arlington, VA, where George received his M.S. in Psychology.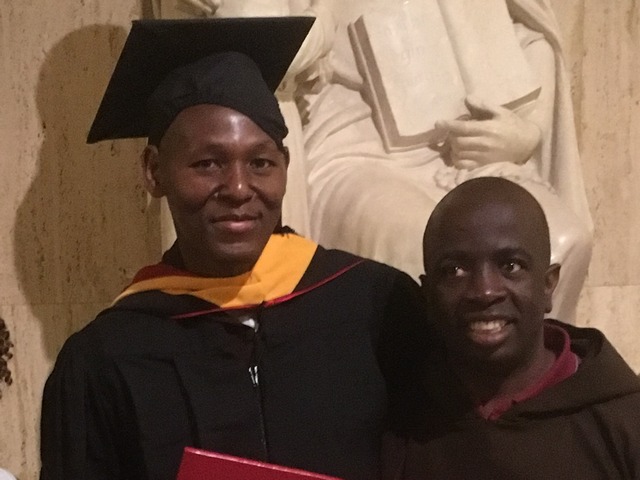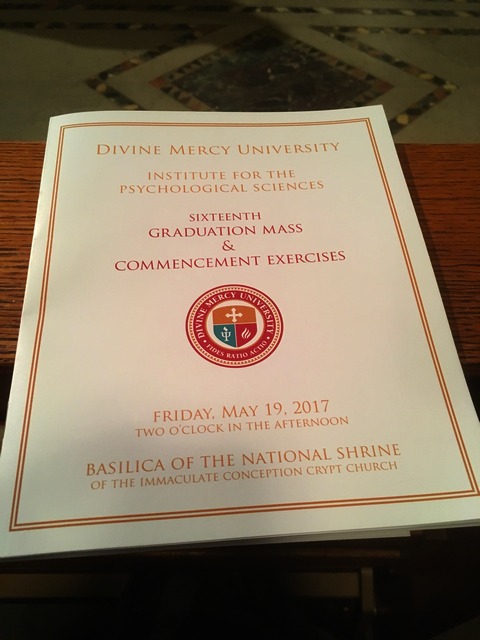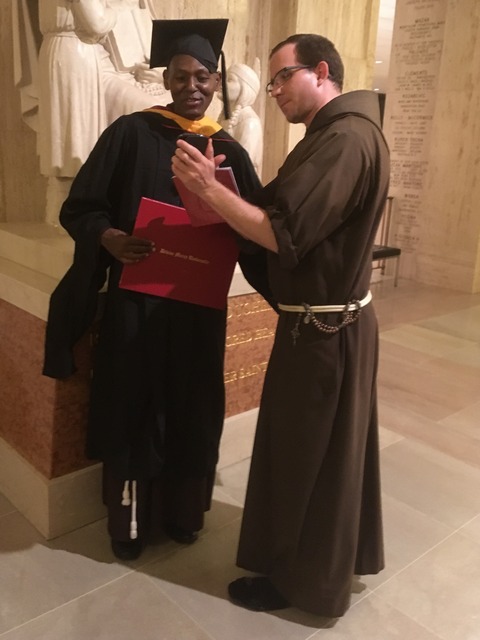 The SECOND graduation photos come thanks to Tage Danielson, OFM Cap., from the Villanova University's School of Business where, on May 20 along with Puis Hal, OFM Cap., he received an M.S. in Church Management. Tage wrote: Pius Hal and George Muthaka graduated from Villanova University's School of Business on Saturday, May 20. They both graduated with a Master of Science in Church Management. Accompanying them to their graduation were Bob McCreary, Brian Newman, and me. After the convocation on Mendel Field, we went to Bartley Hall for a lunch reception. We were able to meet many of the graduates from the church management program. Pius and George were very happy that day.  
    As mentioned in a past NewsNotes , George will be returning to Kenya this summer.  Congratulations to both Pius and George, and thanks so much for your time among us. We are grateful to be your brothers.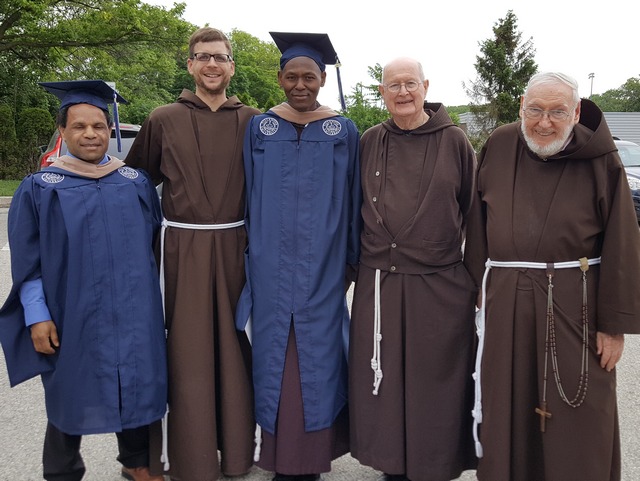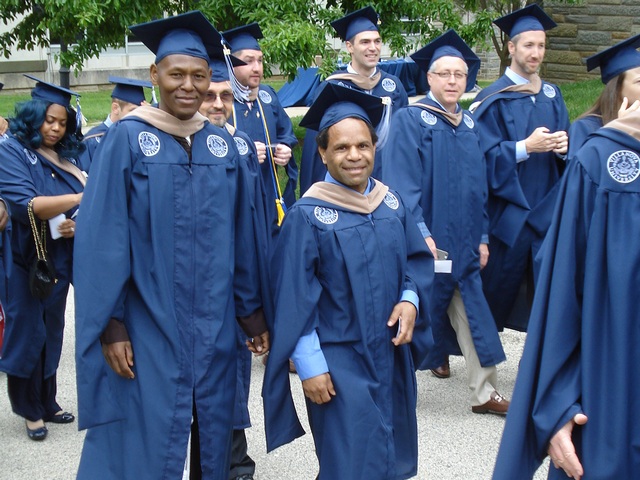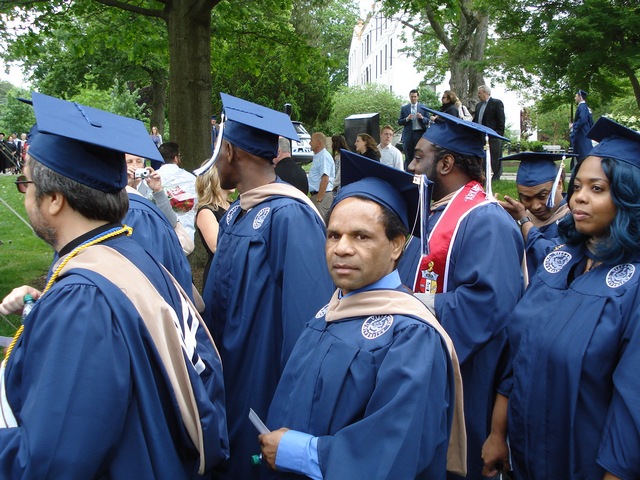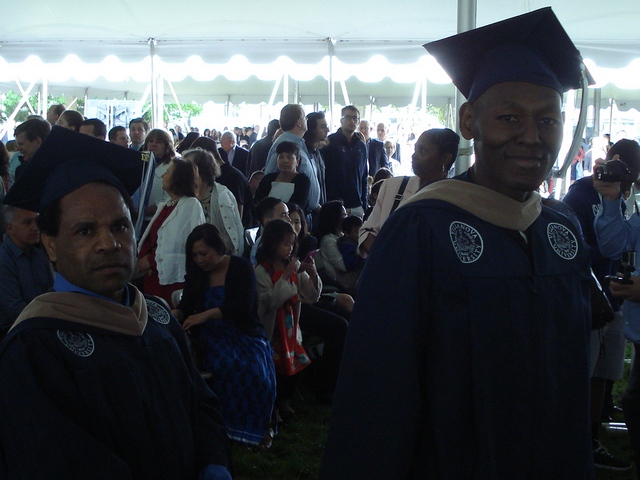 ---
. . . caught on camera . . . and Facebook
Matt has quite a number of pictures posted from the March Brothers Symposium.
Y
ou can see them here

.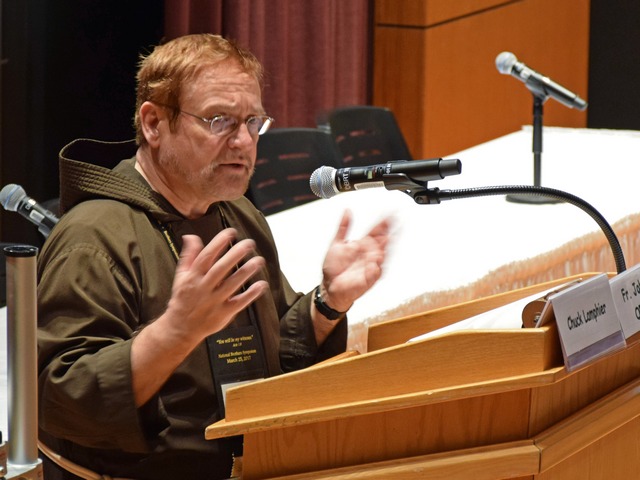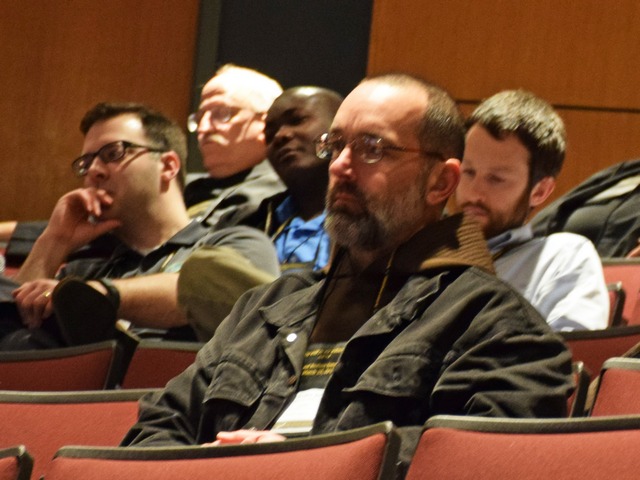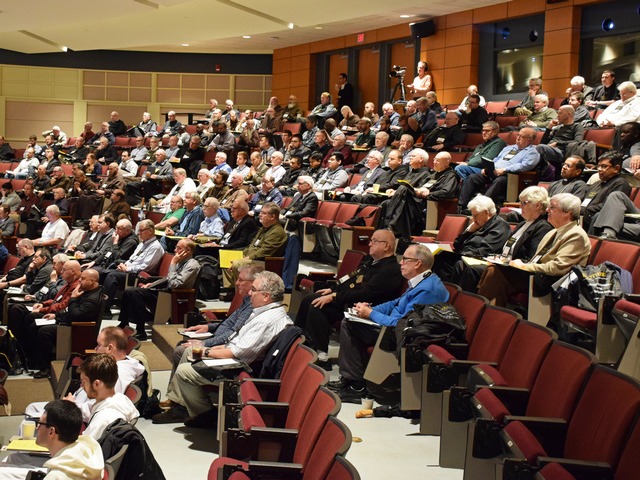 Puerto Rico Custos José Angel Torres Rivera sent us this picture of our brother

Mario Mastrangelo
celebrating his 86th birthday on May 3rd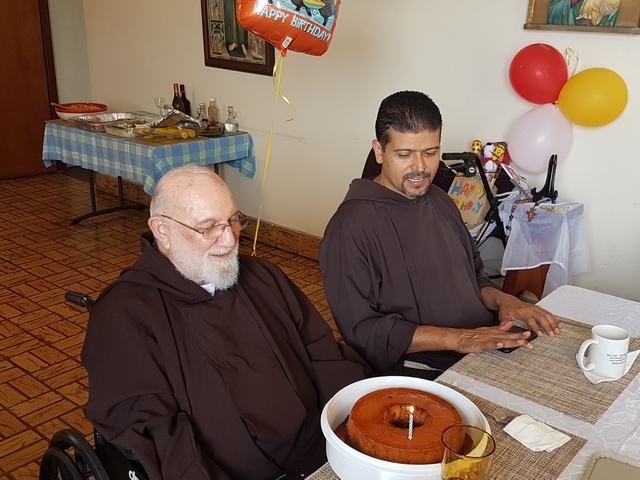 Jim Menkhus, John Petrikovic and affiliate Martha Novelly
were able to be with our brother Bill Henn at the funeral of his brother, Tom.
Bill returned to his work in Rome the day after the Mass and internment.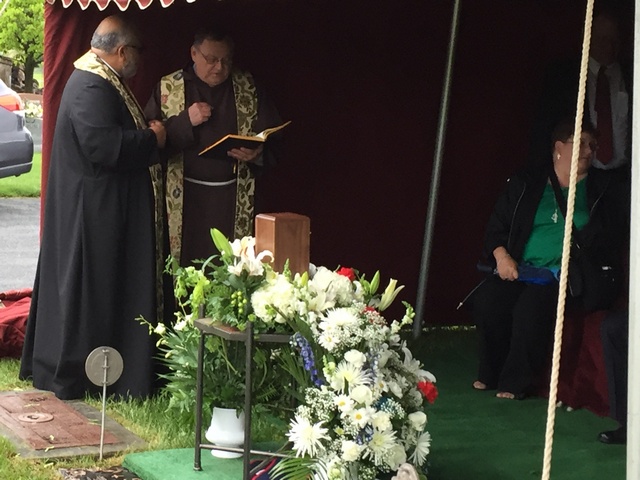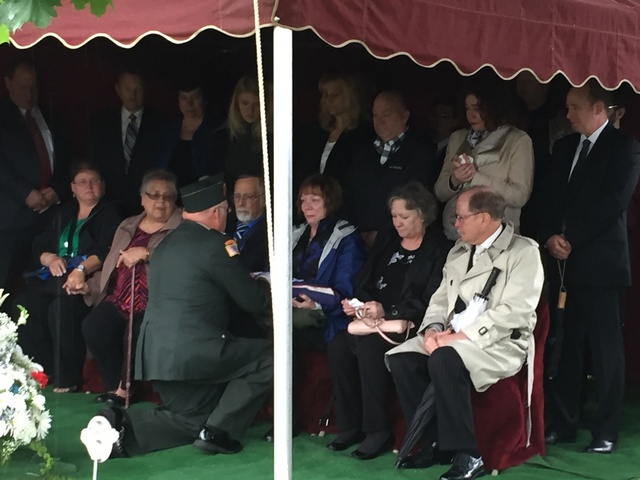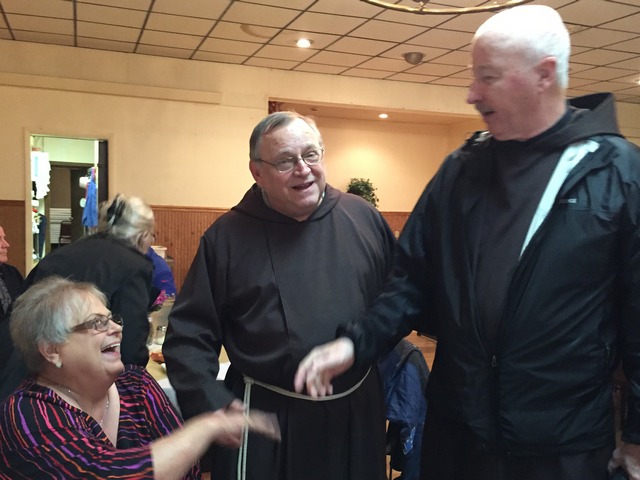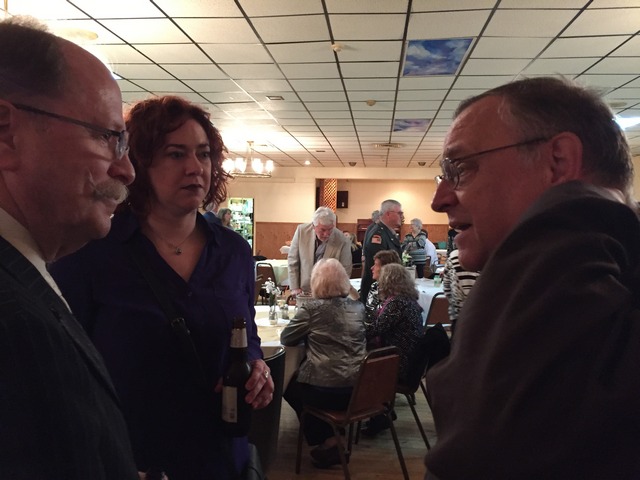 . . . and

Urbano Vázquez, OFM Cap.

,
Pastoral Associate of our Sacred Heart Shrine in Washington, DC,
 was with a LOT of mothers
for a blessing of the mothers on their May-day . . .